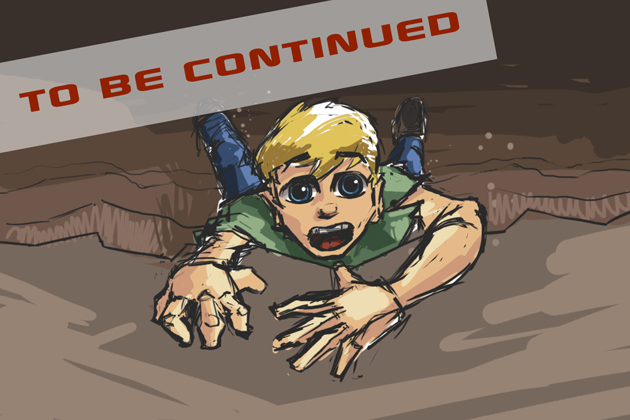 I listen to a lot of podcasts. Because of that, I've heard a few things way too many times. Commercials for Blue Apron and MeUndies, for example. Also NPR voice. Worst of all is the "Season One finale."
In the season finale routine, a podcast that has produced an episode a week for months or years randomly ends an episode by informing listeners that they've actually been listening to "Season One" of the podcast this whole time, and this has been the Season One finale. Season Two will probably start sometime soon, but in the meantime, head over to Audible.com for 20 percent off!
It's very annoying. Why do you all of the sudden have to pretend that this is Gilligan's Island and the gang is about to be rescued, but hold on, is that actually a pirate ship? Find out when Gilligan's Island returns next fall!
I've discovered that podcasts keep pulling the season finale charade because "season finale" sounds better than "we're quitting because recording a new podcast every week is really hard, and nobody's clicking on our Stamps.com link any more." And you know what? I get it.
That's why I'm announcing that this post is the Season One finale of The Life Lessonbook.
The main reason I'm putting The Life Lessonbook on hold after two years is the same reason most podcasts go off the air – it's a lot of work. Each blog post usually takes me four to five hours to write. In the grand scheme of things, four to five hours a week isn't a full-time job or anything, but it's also not nothing. Try banging your head against a keyboard for five straight hours and see for yourself how long it feels. When you're self-employed and don't get paid if you don't work, you realize how valuable those hours can be.
Don't worry – I'm not quitting writing or anything. I started this blog to force myself to get better at the type of writing I like to do, and I feel like I've accomplished that. For the next few months, I'll be using the time I've set aside for blog writing on several new ventures, including a few kids' books.
Also, to date I've written exactly 100 stories about my life plus a few about other people. Frankly, I'm running out of things to say. Instead of trying to force tiny things to become 1,000-word blog posts, I've just decided to wait until I've lived some more life. If something hilarious and/or embarrassing happens to me in the meantime, I'll definitely write about it – it just won't be every week. If you haven't done so, this might be a good time to subscribe via email so you can get notified whenever a new post comes out.
Again, I'll continue writing here sporadically, and I plan on returning to a weekly schedule at some point in the future. In the meantime, you can catch up on a few of my favorite posts from Season One:
I hope you've had as much fun reading this blog as I've had writing it. I really appreciate all the nice things people have said to me about it over the last two years as well as all the likes, comments and shares. And if you've just silently followed along like a ghost, I appreciate you too.
Finally, I want to say a special thank you to my editor Deserae for keeping me from writing things that I'll regret for the rest of my life and for putting up with all the embarrassing things I've said about her. I'd also like to say a super special thank you to my brother Jesse for always drawing awesome illustrations, even when I send him a half-finished blog late on a Tuesday.
OK, that's a wrap. See you all at the Season Two premiere!
LIFE LESSON #110
Quit while you're ahead. Or at least while you still have a few life lessons left in the tank.