The Life Lessonbook celebrates the embarrassing moments and dumb decisions that teach us life's most important lessons. It's got a lot of stories from Dustin Brady because he's a human disaster, but we'd love to feature your worst moments too. If you have an embarrassing story to share, let us know by filling out the contact form. We'll help you relive a terrible moment by sharing it with the world and giving it original artwork. If you're sharing someone else's story, please DO NOT get their permission before sending it to us. It's more fun that way.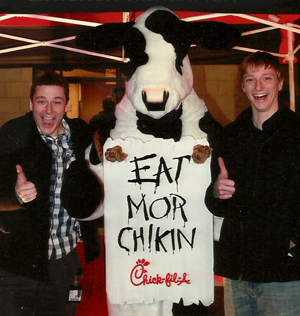 Dustin Brady writes the stories for The Life Lessonbook. He makes money by selling junk on Amazon. If you like this website, you may also enjoy the Fitness Fail Friday series he wrote for STACK. He's married to Deserae, a pretty, amazing girl, and lives in Cleveland, a pretty cloudy city. He's horrendous at small talk.

Jesse Brady draws all the pictures for The Life Lessonbook. He's a professional illustrator and digital artist for A Beka Book in Pensacola, Fla., and he's really good at drawing robots. You can check out his portfolio here. Jesse is world-class at Super Smash Brothers and Mega Man, but surprisingly just OK at Mario Kart. He once cleared out an entire cafeteria with his vocal impression of a fire alarm and an entire dorm with burnt bacon that set off an actual fire alarm.