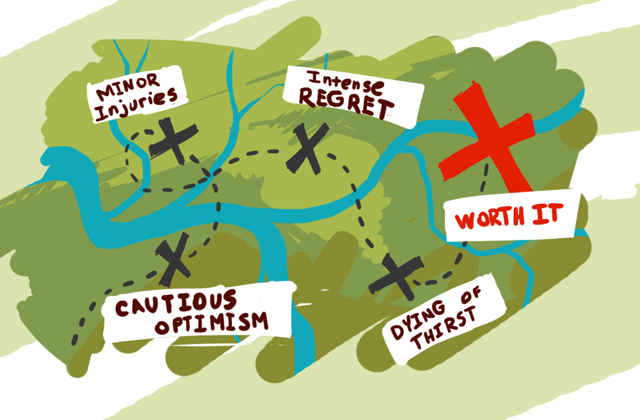 When Deserae and I went to Maui for our honeymoon, my goal was not to relax by the pool or enjoy the ocean breeze or have a romantic time with my new bride. No, I would not rest until we SAW EVERYTHING. That's how we ended up on a three-hour hike after a full day of driving and sweating on the Road to Hana.
If you're unfamiliar with the Road to Hana, it is 64 miles of blind turns and one-lane bridges through Maui 's rainforest. If you make it to the end without dying or divorcing, you win a prize. The road's best feature is its waterfalls. Because Deserae loves waterfalls (we got engaged next to one), I planned a route that would let us see all 2 billion of them. After eight hours, we'd seen all the waterfalls except one – the 400-foot Waimoka Falls at the end of the Pipiwai Trail. I'd kept this one a secret because I was romantic and dumb.
"I think you'll like this hike!" I said as we pulled into the parking lot.
Deserae looked skeptical. "Is it long?"
"That's not important."
"It's kind of important."
"We can do it fast."
"Should we bring water?"
"Nope!" I said mainly because as the person wearing cargo shorts, I knew who'd be carrying the water.
"Fine."
We got out of the car and immediately started walking uphill. After a half mile of climbing, Deserae broke the silence.
"You know what I could really go for right now?"
"Huh?"
"Some water."
Right about that time, we reached a stream. According to my guidebook, this was the top of Makahiku Falls . Apparently we could swim to the right side of the stream and get a spectacular view over the 200-foot falls.
"Wanna jump in?" I asked.
"Is this the top of a waterfall?"
"That's not important."
"IT'S KIND OF IMPORTANT!"
I convinced Deserae to get into the water and even swim to the rock at the precipice of the falls. We climbed onto the rock and – FIRE ANTS?! ARE THOSE FIRE ANTS?!! –almost plummeted to our deaths.
When we escaped with our lives, Deserae glared. "Was that it?"
"Nope, we keep going!"
A few minutes later, we got to a banyan tree the size of a city block.
"Whoaaaa," Deserae said. Then she looked sideways at me. "Is this it?"
"Nope, we keep going!"
We walked through a magical bamboo forest.
"Is this it?"
"Nope! It is magical though, right?"
"My nose is burnt."
I spent the next half hour reassuring Deserae that we were almost there, while she spent it threatening to turn around. Finally, we reached a river bed.
"OK, we're here!"
Deserae looked around. "Dustin, so help me…"
"Look up."
Towering above the trees was the tallest, most spectacular waterfall either of us had ever seen.
"Whoaaaaa…"
We walked to the base of Waimoka Falls and marveled for a few minutes. Deserae leaned against me.
"Was it worth it?"
Deserae tried not to smile. "I choose not to answer that."
LIFE LESSON #98
If you're going to embark on a 3-hour hike without water, the waterfall at the end had better be worth it.