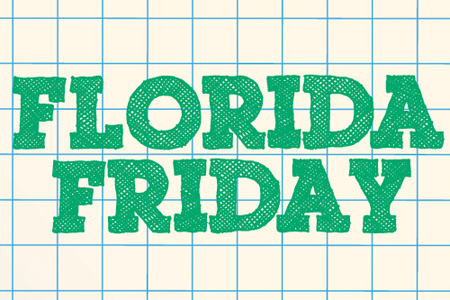 After an unannounced summer hiatus, Florida Friday is back!
You may have wondered what kind of Florida high jinks you've been missing all summer. Well, there was plenty of theft, alcohol and nudity (stories like "Naked Men Caught on Camera Stealing Bacon" cover all the bases nicely). Marijuana played a large role (or roll).
But for the best picture of Florida life in June, July and August, we turn to the Bradenton Herald, which brought us this headline from the Bayshore Windmill Village trailer park: Bradenton Woman Charged with Battery after Chucking Bowl of Ramen Noodles, Fork at Victim.
From the Herald, here's what you missed:
According to a report, 25-year-old Alicia Marie Popper was using the pool at the victim's mobile home park. Deputies say Popper was not following the pool rules and that the victim reminded her to not leave her children alone in the pool, not pick head lice while at the pool and not eat at the pool.
Both women began arguing and deputies say Popper then threw her plastic bowl of Ramen noodles and fork at the victim, hitting her in the neck and right arm. According to the report, the victim did not suffer any injuries.
Welcome back, Florida! We missed you!
More Florida headlines from this week:
Inadvertent Photobomb Leads to Beach Wedding Brawl
Best line: At one point, according to the report, the bride joined the scuffle, ending up on the ground. The vendor was able to escape the group long enough to get a filet knife from his truck, which kept the group back until deputies arrived.
Man Goes Crazy in Diaper Aisle at Wal-Mart
Best line: Post Miranda, the defendant admitted being in the store shopping for diapers for a dog in heat.
Cops Find Pot Plants Hanging Out of Car Window
Best line: It wasn't exactly the work of a criminal mastermind.
Thanks to "Florida Man" on Reddit for all the news stories.
LIFE LESSON #29
Don't visit a Florida trailer park pool if you're not willing to deal with some lice and Ramen.