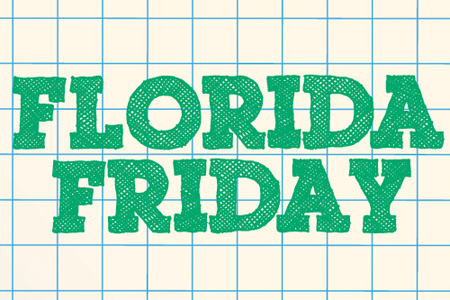 "Comeuppance" is not only the most enjoyable word in the English language to say, it's also the most enjoyable thing to watch happen.
This week, a crabby Florida man brought joy to millions by getting his comeuppance.
According to the Tampa Bay Times, Doug Wilkey does not care for his neighbor's business. Wilkey has complained multiple times to City Hall that the business is hurting his property value, disturbing the peace and possibly poisoning its customers.
Before you decide whose side you're on in this dispute, it's important to know that Wilkey is 61, his neighbor is 12, and the business is a lemonade stand.
For the past two years, Wilkey has written increasingly urgent letters to City Hall, pleading with them to put a stop to young T.J. Guerrero's lemonade stand. City Hall has been slow to respond to Wilkey's complaints, but quick to share them with newspaper reporters.
Within these letters, Wilkey makes some great points:
I am very worried about the value of my home, which is why I built in a residential area, not a business area.
The city could possibly face repercussion in the event someone became ill from spoiled/contaminated food or drink sales.
The stand is back AGAIN!!!!
After the story came out on Sunday, people from around the country rallied behind T.J., who was just trying to earn enough money for "an iPod, snacks, his cellphone bill, trips with his grandfather and dinners with his mother." So far, T.J. has received over $1,000, a limo ride and an iPad. He in turn gave some of the money to his local animal shelter. 
That's a nice ending to the story, but definitely not the best part. The best part came later in the week when an anonymous tipster informed city officials that Wilkey himself was running an illegal business out of his house. As of March, Wilkey's house was listed as the primary business address for "Bayport Financial Services."
The city's planning director told the paper that his office was sending a letter to Wilkey informing him that he needed to obtain a business tax license, which costs $45 a year and sign an affidavit agreeing to follow special rules. If Wilkey doesn't comply, he'll face a daily fine of $250. 
How you like those lemons, Wilkey?!
More Florida headlines from this week:
All three of these headlines are AMAZING, but the stories unfortunately provide way more questions than answers. I'd love to spend an entire afternoon, for instance, investigating what someone could possibly do that would require him to be rescued from a vending machine.
Woman stole barber's chair from salon, held it for ransom
Man rescued from vending machine on Westside
Man arrested for prowling tried to fight a fire hydrant
Thanks to "Florida Man" on Reddit for all the news stories.
LIFE LESSON #32
Comeuppance is a dish best served with a glass of lemonade.