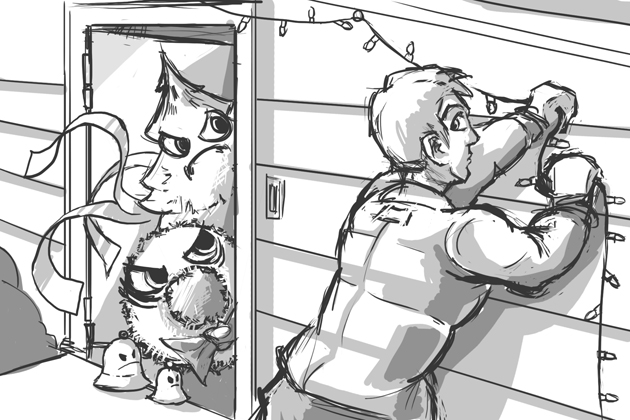 Deserae recently shared five pictures of our home decorated for Christmas on Facebook with the one-sentence caption "It's beginning to look a lot like Christmas at the Brady house!! :)"
The pictures currently have 56 likes, which is about 53 more than this post will get. I can see why. The pictures make our home look perfect. I could see them being featured in a magazine with the caption, "Awwwww," alongside a newlywed couple kissing under mistletoe with their Goldendoodle puppy sitting nearby looking embarrassed.
As someone who was there, I feel obligated to share a little behind-the-scenes on those perfect pictures.
Enjoy!!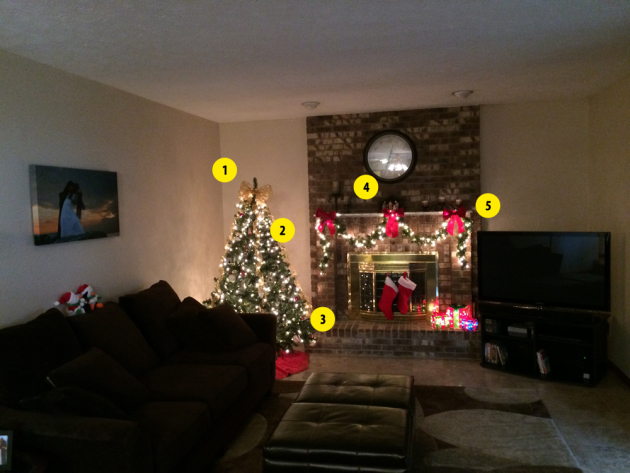 1. They say that the biggest challenge in a marriage is money. That has not been my experience. If I were counseling a young couple, I would probably tell them that flipping the mattress together every six months will be their biggest challenge. I think mattress stores should include discounted marriage counseling with every mattress they sell. "You will need to flip your mattress every six months. The mattress is large and unwieldy, and one spouse will probably be much more particular about the bedskirt than the other, so we recommend scheduling one hour of counseling immediately after each flip."
If flipping the mattress is the biggest challenge to marriage, I would say putting up the Christmas tree is a close second. No matter how perfect the mood or music, setting up the tree always seems to take a turn for the worse after about five minutes.
Silent night…
"It's not straight, sweetie."
"Which way is it leaning, hon?"
"That way."
"What's 'that way,' I can't see anything from down here."
…Holy night…
"Left."
"YOUR LEFT OR MY LEFT."
"MY LEFT."
"WELL I DON'T KNOW WHAT I'M SUPPOSED TO DO BECAUSE THIS SCREW IS AS TIGHT AS IT CAN GO!"
"WHY IS THIS TREE SO PRICKLY!!!"
…All is calm…
2. Once we've gotten the tree as straight as it will be, we hang the ornaments. This is my favorite part, because I get to annoy Deserae by putting all of the "less desirable" ornaments in the front instead of the back. The less desirable ornaments are led by "Bob the Bulldog," which was painstakingly sculpted by me in sixth grade. This year, Bob serenaded Deserae with the entire chorus of "Angels We Have Heard on High" before taking his place front and center on our tree. She hated it so much.
3. When Deserae and I got married, someone gave us a lot of small, pretty green and silver ornaments. Every year, I break at least two, and every year, it gets harder to convince Deserae that this is an accident.
4. Our nativity set was left to us by Deserae's late grandmother and is Deserae's most prized possession. The most stressful part of my Christmas every year is bringing it up from the basement without breaking it. I'm just sharing this with you in case I wind up dead one December, and police are looking for a motive.
5. See this swoopy green thing? It is very nice. If this year is like every other year, it will spend 90% of December on the floor, because no substance on earth is sticky enough to keep it attached to the mantle.
6. Deserae wrapped the stair rail with greenery while I cleaned the bathrooms. I told Deserae that splitting up would allow us to get more done, while giving me the chance to play the Cavs TV feed on my phone in my pocket and listen to the audio while cleaning. Twenty minutes later, Deserae stopped by the bathroom to ask me something. When she opened the door, she saw me sitting on the edge of the tub, holding the phone inches from my face.
"Wait! I just took it out of my pocket! Come back!"
7. My big job every Christmas is stringing the icicle lights along the gutter. Since our ladder is about three feet too short for the job, I spend most of the hour teetering on the top step and praying. Decorating the 10 feet of gutter over the flower bed is the worst, because I have to pull the ladder even farther from the house. For this area, I stand at the top and slowly "fall" forward about 45 degrees until I catch myself with the gutter. Once I'm done stringing the lights, I push off of the gutter hard enough to stand back up, but not too hard that I fall backward and crack my skull. It is the most terrifying thing I do all year.
Every year, I think it would be funny to write a will before I string the lights and leave it on the kitchen table. I almost did this year, but it was icy outside, and I realized there was a chance that I might actually fall this time. And if I died, not only would Deserae be sad, but she'd also have to decipher what I actually wanted from a joke will that's not even legally binding. So I decided against it.
8. After two days of risking injury, cursing fake pine needles and breaking ornaments, we finally plopped onto the couch. We sat there for a second before Deserae popped up. "Could you do me a huge favor and go outside to take a picture of our house?" I glared for a second before going outside to take this picture.
I then ran back inside because it was -10 degrees.
"Hmmmm, maybe we should turn on more lights?"
Longer glare. This led to a string of no fewer than five more photos before arriving at the one that got posted.
After sharing our "perfect" Christmas home, we settled back onto the couch. Boxes were everywhere, my fingers were numb and both our arms were scratched from the tree. But in that moment, with the Christmas lights providing the only light in the room and "I'll Be Home for Christmas" playing in the background, I had to admit something.
Everything was perfect.
LIFE LESSON #48
Everything doesn't have to be "perfect" to be perfect.